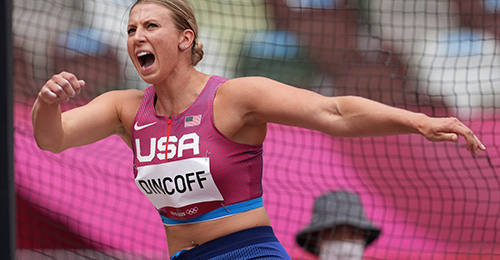 Former New Mexico State volunteer assistant track and field coach Rachel Dincoff reached the pinnacle of her discus event when she qualified for the Olympic games in 2020. She had punched her ticket by finishing third at the U.S. Olympic Trials, throwing 197 feet, 6 inches.
During her Olympics debut in the women's discus competition, Dincoff unleashed a longest throw of 56.22 meters, good enough for 12th place in Group A of the prelims. Rachel did not make the finals, but had accomplished an incredible dream that had been an exhausting but incredibly gratifying journey.
Dincoff had served on the Aggies' coaching staff in a volunteer assistant role since 2017, specializing in her work with the team's throws. Under Dincoff's watch, NM State has had two student-athletes move on to the NCAA West Preliminary meet including Taniya Mitchell (hammer throw, 2019) and Yemisi Oroyinyin (shotput, 2021).
"My goals are different now," Dincoff said. "I want to win a gold medal. That is 100% my goal. I don't know how long it will take to get there, I don't know if it will ever happen, but there isn't a reason why I can't.
She'll be doing her training now in Tallahassee, Florida. Her coach, Doug Reynolds, is now an assistant with the Florida State track program coaching throwers. He had been at New Mexico State. "It's great training weather and a lot closer to my family as well," Dincoff said. "It's going to be a great situation and I'm really excited."
The Eiffel Tower is off in the distance, and Dincoff would like to see it up close at the 2024 Summer Games in Paris. First up, however, are the World Track & Field Championships in Eugene, Oregon, in July. It's the same site where she placed third in the U.S. Olympic Trials.