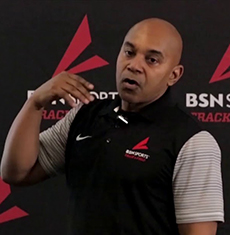 BSN Sports -
Former NBA Strength/Speed Coach
Robert Hackett's professional strength and conditioning experience spans over 20 years with the Vancouver Grizzlies, Memphis Grizzlies, Dallas Mavericks (2011 NBA Champions), Milwaukee Bucks.
Prior to working in the NBA, Hackett designed and directed the strength and conditioning programs at the University of Wisconsin for the school's men and women basketball, football (1993 Rose Bowl Champs) and track teams.


He has extensive experience in testing, teaching, and coaching athletes. He also served as an assistant track coach for three years for the Badgers.


Hackett is a graduate of Wisconsin with a bachelor's degree of science. While at Wisconsin, he competed as a sprinter on the badger track team, where he was a three – time USA Olympic Trial Qualifier and NCAA Champion; competed in the 100 and 200 meters.